When planning your couples' photoshoot, it's important to dedicate time towards planning what you and your partner will wear. Your clothing can make or break the pictures. Yet, this is often where most people get stuck. If you need help figuring out where to start, this guide will be a great resource. Keep in mind, every custom session includes assistance with planning your looks, and we even offer the add-on of a personal stylist to help you choose the perfect outfit for your next photoshoot with your partner.
1. SELECT OUTFITS THAT MAKE YOU FEEL CONFIDENT
Choose silhouettes that flatter your favorite features. You'll naturally feel more confident when you're showcasing what you love about yourself. It's better to select pieces that make you feel your best than to force yourself to wear something only because you think it's fashionable. You don't want any feelings of self-consciousness or discomfort to take away from your experience or to come through in the images. Instead, dedicate the time to finding outfits that compliment you and make you feel amazing.
This goes for men as well. If your guy would never feel comfortable in a tux or fancy suit, don't force him to wear one. Yes, you want to take things up a few notches from your everyday look, but be true to your style. Picking the right outfits will let you enjoy the photoshoot, to feel like your best self, and to love how you look in the photos.
2. THE GOAL IS TO COORDINATE, NOT TO MATCH
You want to look for complementary colors to make the final look stronger. Ladies, I recommend you start with what you want to wear. Then, think about what your partner can wear that will be harmonious with the tones you chose. Color harmony refers to the use of color combinations that are pleasing for the human eye and it's very important in photography.
Color palettes that make sense together will have a visually satisfying effect on your images. So, for example, if you decide on a soft shade of pink, he might wear a light grey suit. Both colors are soft and look good together. The goal should be to have a color palette that creates a cohesive look without being match-y.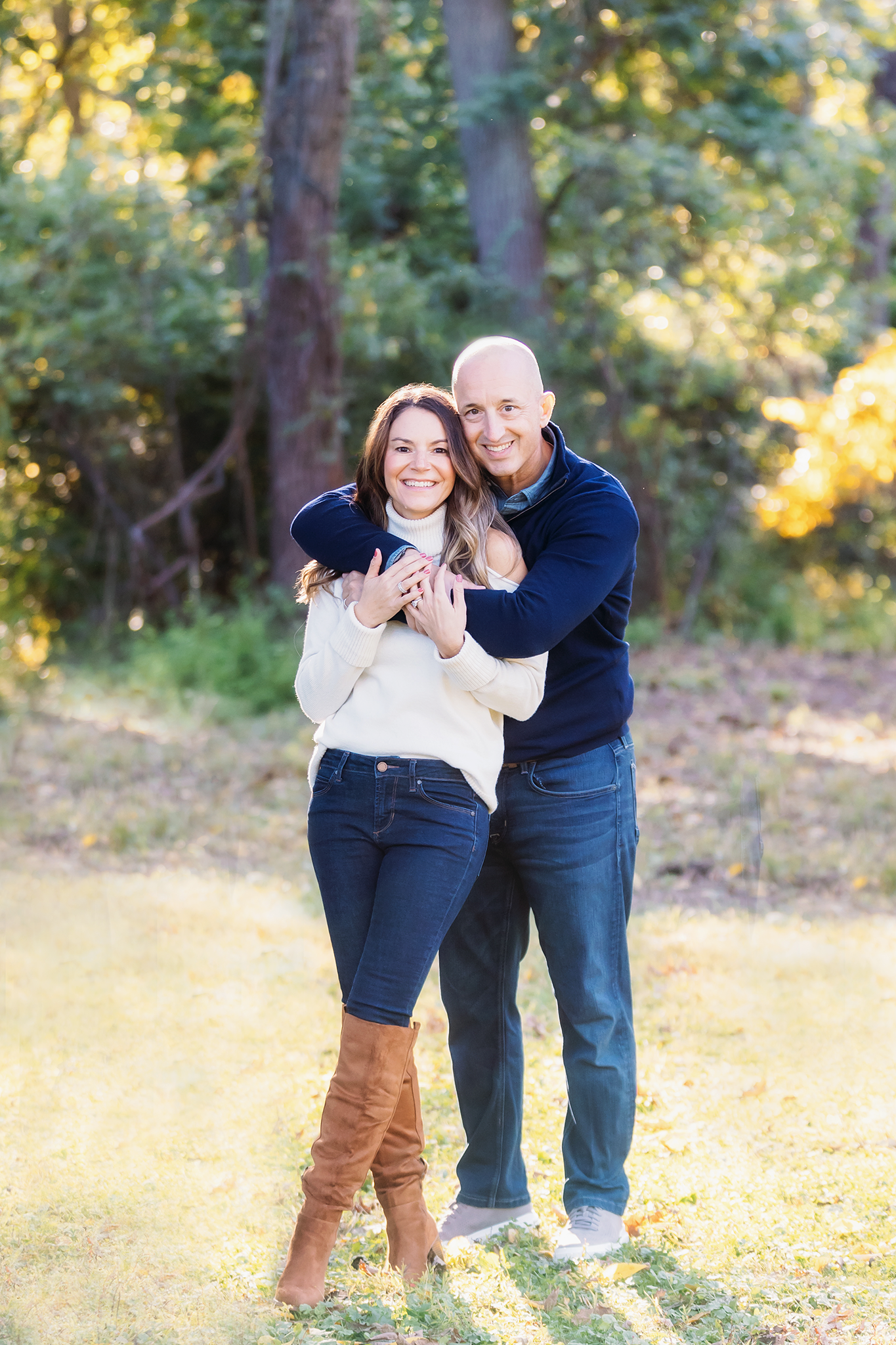 3. WHAT COLORS WORK BEST AND WHAT TO AVOID
Try to avoid colors that will steal a lot of attention. The focus should remain on your expression and love for one another. Overly bright and bold colors will compete for attention and take away from your faces. In most cases, you'll want to avoid bright red and orange as they tend to reflect color back onto your skin. Soft, muted shades and neutral colors are always flattering on camera. Another tip is to avoid wearing distracting patterns or logos. Again, we want the focus to be on your connection, so solid colors tend to work best.
Another thing to consider when choosing colors is where your couples' photoshoot will take place and when. If you're going to be photographed outdoors among fall foliage, you might consider warm hues like cream, beige and brown. If you're going to be at the beach, maybe baby blues paired with clean white. Planning a studio session? You might go with more contrast like an always classy charcoal suite and white dress.
4. TIMELESS VS TRENDY
I tell clients that the goal is to look like yourself on your best day. Here's your chance to take things up a notch, to get dressed up in outfits you love. Just remember, you'll want to love seeing yourself in those outfits in the future too. It's important to choose outfits that won't look dated in ten years. Keep your focus on finding sleek, timeless looks.
We're creating images that you can display for years and that future generations can also enjoy. Use this opportunity to dress up in classy, not overly trendy pieces. You'll look your best both today and when you admire your photos years from now.
Remember, a couples' photoshoot is about the love you share, so leave time to choose outfits well in advance. You don't want to feel stressed throwing things together last minute. Planning everything out will allow you time to relax, to be present, and to look and feel your best.
If you need additional help, please reach out here! We help our clients with styling consultations and can provide the support you need to feel confident and beautiful for your photoshoot!